I'll Be O.K. Gift Set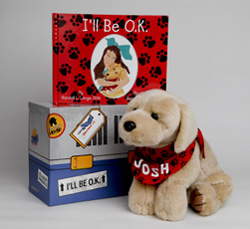 By Dr. Randy Lange
Illustrated by Betsy Lesher
Join Josh in a once-in-a-lifetime adventure in getting well with the
I'll Be O.K. Gift Package!
While a hospital stay can be a frightening experience for an adult, it can be terrifying to a child. When visiting a doctor or going into the hospital, children need to know one thing: That he or she will be O.K.
I'll Be O.K. and its accompanying adorable plush pup Josh clearly send that message to a child's heart unlocking opportunities for comfort, companionship and confidence around the hospital experience.
Meet Josh, the fun-loving golden retriever that is also facing his first hospital stay. With the help of his friends and family, Josh learns the ins and outs of the hospital experience and comes to understand that he'll be O.K.
The I'll Be O.K. gift package provides parents with a tool that helps prepare a child for a hospital or doctor visit through a light-hearted, educational, and entertaining story. Reading I'll Be O.K. transforms your child's fearful expectations into a more manageable, exciting adventure, having an immediately positive impact on the child's well being.
The Josh puppy brings comfort, security, and constant companionship to your child—even when you can't be present—providing a symbol of a family's love and support.
Product Details
A 32-page, hard cover book with colorful, fun illustrations
Hypo-allergic, cuddly plush golden retriever puppy.
Adorable doghouse packaging that provides an easy-to-tote, temporary home for Josh.
About the Author
Dr. Randall Lange is Jessica's dad, Josh's companion and the director of Lange Animal Hospital. Read Dr. Lange's true story of how he conceived of this project.
What Other Concerned Parents Are Saying
"Josh's story, written by a veterinarian, is intended to provide comfort to children who are facing surgery or a hospital stay. It worked for our Alicia. She was scared but Josh convinced her that it is normal to be scared, that he and her family truly love her, that he would be by her side throughout surgery and that she would be O.K.! Alicia's appointment with the child psychologist was no longer needed and was subsequently canceled. Thank-you for all that you have done. Your contribution to Alicia's well being is immeasurable and I am forever grateful."
— Daniel K. Ciszewski
"During the procedure, while my husband and I were in the waiting room, I thought a lot about the Josh dog and all he has meant to our son, Josh. It dawned on me that Josh dog is much more than a regular stuffed animal. When my husband and I had to leave the room—Josh dog got to stay. Josh represented our love—the love and comfort that my son needed—going into that procedure, and he enabled Josh to not have to do it alone. At these critical times Josh dog takes on a life of his own and becomes a representation of love and support of his family that isn't sent to the waiting room."
— Jill Beverlin
"Thanks for your concern and efforts during our son Grayson's heart surgery and recovery this summer. Your friend Josh was a comforting companion before, during, and after the "main event." We read Josh's book to Grayson while he waited to be taken to surgery. Josh helped all those around him, from the little bothers who needed to cuddle to the adults who literally needed to hold on to something as we waited through those long hours. He was also front and center to greet Grayson when he came back to his hospital room and continued to be with him at home as he recovered."
— Jennifer Howard
"Our son Neil wanted us to read your book over and over in the weeks before the surgery. We were able to use Josh's experiences in the book to discuss what Neil could expect while in the hospital. Josh immediately became one of Neil's favorite animals and has slept with Neil since we got him. The doctors let Neil hold Josh on the morning of his surgery until after he was asleep from the anesthesia. That seemed to be comforting to Neil, which in turn was comforting to us. We are very thankful for the help and comfort your book and Josh have given our family."
— Jim & Susan Gore
Josh Profiles
Read heart-warming letters from parents explaining how the I'll Be O.K. gift package helped them through a difficult time:
Alicia Ciszewski: An Arduous Medical Journey
Josh Beverlin: A Brother's Love
Grayson Howard: The Symbol of Josh
Jake & Nick Fiveash: The Family Companion
Share Your Story
Do you have a Josh story you'd like to share with us? You can do so here.
Store Categories
Related Links
Become a Friend
Your organization can have an immediate positive impact on a child's well being!
Take the Josh Challenge
Your veterinary school SCAVMA chapter can help children in your community.