I'll Be O.K.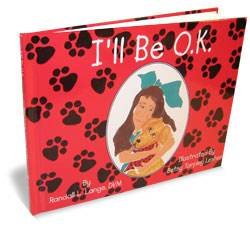 By Dr. Randy Lange
Illustrated by Betsy Lesher
Join Josh for a once-in-a-lifetime adventure in getting well!
While a hospital stay can be a frightening experience for an adult, it can be terrifying to a child. When visiting a doctor or going into the hospital, children need to know one thing: That he or she will be O.K.
I'll Be O.K. clearly sends that message to a child's heart unlocking opportunities for comfort, companionship and confidence around the hospital experience.
In this book you will meet Josh, the fun-loving golden retriever that is also facing his first hospital stay. With the help of his friends and family, Josh learns the ins and outs of the hospital experience and comes to understand that he'll be O.K.
Reading I'll Be O.K. transforms your child's fearful expectations into a more manageable, exciting adventure, having an immediately positive impact on the child's well being.
Product Details
A 32-page, hard cover book with colorful, fun illustrations
What Other Concerned Parents Are Saying
"Josh's story, written by a veterinarian, is intended to provide comfort to children who are facing surgery or a hospital stay. It worked for our Alicia. She was scared but Josh convinced her that it is normal to be scared, that he and her family truly love her, that he would be by her side throughout surgery and that she would be O.K.! Alicia's appointment with the child psychologist was no longer needed and was subsequently canceled. Thank-you for all that you have done. Your contribution to Alicia's well being is immeasurable and I am forever grateful."
— Daniel K. Ciszewski
"Our son Neil wanted us to read your book over and over in the weeks before the surgery. We were able to use Josh's experiences in the book to discuss what Neil could expect while in the hospital. That seemed to be comforting to Neil, which in turn was comforting to us. We are very thankful for the help and comfort your book and Josh have given our family."
— Jim & Susan Gore
Josh Profiles
Read heart-warming letters from parents explaining how the I'll Be O.K. product helped them through a difficult time:
Alicia Ciszewski: An Arduous Medical Journey
Josh Beverlin: A Brother's Love
Grayson Howard: The Symbol of Josh
Jake & Nick Fiveash: The Family Companion
Share Your Story
Do you have a Josh story you'd like to share with us? You can do so here.
Store Categories
Related Links
Become a Friend
Your organization can have an immediate positive impact on a child's well being!
Take the Josh Challenge
Your veterinary school SCAVMA chapter can help children in your community.